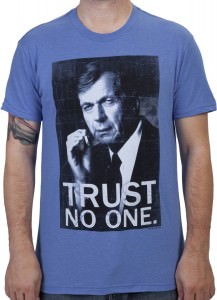 Fox's The X Files television series has some famous characters but none more famous than the "Cancer Man". He was a major villain and a part of the Syndicate who are hiding a little truth about aliens on earth. This t-shirt is a must of any X Files fan.
This t-shirt has a picture of the "Cancer Man" played by actor William B. Davis. This is a famous picture of him with his cigarette in his hand and in his suit and tie. One of X Files great quotes is also written on the t-shirt, "Trust No One".
This distressed printed t-shirt comes in sizes Small to 2XL and will fit you true to size. It comes in a Royal Heather Blue color which looks great!
The only thing you can trust is wearing The X Files Smoking Man T-Shirt.