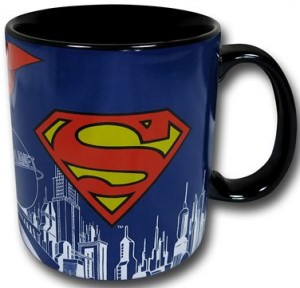 Add some extra pleasure to your morning coffee when you use this Superman mug.
This blue 14-ounce ceramic mug has the image of Superman flying through the air in his blue costume and red cape and his stylized red and yellow "S" shield on his chest.
The other side of the mug has a large version of Superman's red and yellow shield and all around the bottom of the cup is a white line drawing of the Metropolis skyline featuring the Daily Planet sign.
When you have your coffee, tea, hot chocolate or soup you can safely heat it up in the microwave and when you are finished, clean the mug in the dishwasher.
Have a hot beverage now with this Superman Logo and Picture Mug.