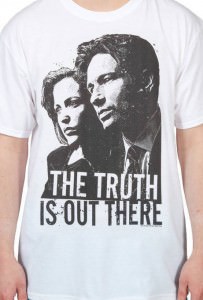 One of the most popular pop culture TV shows of the 90's and 2000's is the X-Files, starring special agents Fox Mulder and Dana Scully.
This white t-shirt has the distressed screen-printed portraits of Fox and Scully in black as they look off to the side and the area looks like it has been splattered with virus containing Purity black oil.
The recurring tagline that most fans will remember "THE TRUTH IS OUT THERE" is printed below their faces.
This 100% cotton men's t-shirt comes in sizes S 3XL.
If you are trying to solve paranormal cases like they do in this science fiction/horror TV show then you must wear this, The X-Files The Truth is Out There T-Shirt.