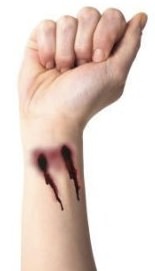 OK vampires like to suck blood but when there is no real vampire around how do you impress you friends?
Of course get a temporary tattoo that looks like a vampire bite. You can put it where ever you like on your neck, wrist or where you think it looks cool.
Check out this Vampire Bite Temporary Tattoo.