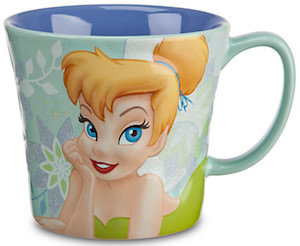 If you are looking for a mug that can hold your morning coffee and shows Tinker Bell then you came to the right place.
This mug shows Tinker Bell art on both sides and the art has a dimensional surface so you can feel it stick up and it has sparkles to. On one side you can see Tinker Bell up close staring at you and on the other side she is flying around.
This coffee mug is 12 oz and is microwave and dishwasher safe.
Why you paper or plastic when you can have a real ceramic Tinker Bell mug like this one that will last you so much longer and looks so much better.
Don't wait come get your own Tinker Bell Spring Fling Mug.