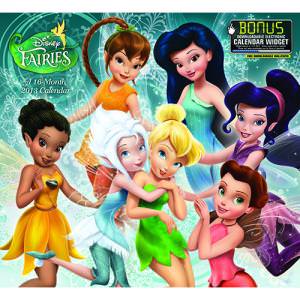 Let the magical Disney Fairies help you keep track of the year 2013.
This is a 2013 calendar that features all of your favorite Disney Fairies, find Tinker Bell, Vidia, Silvermist, Fawn, Rosetta, Iridessa and Periwinkle.
Using extremely high quality colors and print, this 2013 wall calendar is based on the Disney Fairies 4th movie: Secret Of The Wings.
A standard wall calendar size, Size Closed: 11.0 " x  12.0 ", Size Opened: 22.0 " x  12.0 " with stapled binding, also check out the Bonus downloadable electronic calendar widget.
Check out the Disney Fairies 2013 Wall Calendar.
You may also like: