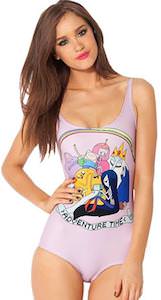 Do you love  to swim? Are you a fan of the television show Adventure Time?
If you love these two things then this women's Adventure Time bathing suit would be prefect for you.
This pink full piece Adventure time bathing suit features a picture of the whole gang from Finn, Jake, BMO, Princess Bubble Gum, and more with a rainbow above them and the quote "Adventure Time" below the picture on the front and the back of the bathing suit.
It will sure get you lots of looks with the sexy style of the swimsuit that is very low in the back.
You will defiantly go on and adventure when you go for a swim wearing this Adventure Time Swimsuit.