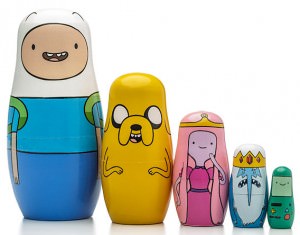 The Adventure Time nesting dolls are so very colorful and start with BMO (who does not open) who fits inside The Ice King. The Ice King will then fit inside Princess Bubblegum, who goes in Jake the dog, and all fit inside the big Finn.
The 5 wooden nesting dolls range in size from 2 inches to 6 inches. They are hollow, split open and one can be hidden with in another. Keep them all tucked up inside one or have them all out for display. And for the serious collector you could keep them in their officially licensed packaging and have them on display.
Start stacking today with your Wooden Adventure Time 5 Piece Nesting Dolls.