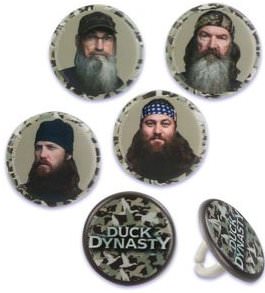 A Duck Dynasty party would be perfect with the right cupcakes and now any cupcake can become the perfect cupcake for you Duck Dynasty party.
This set of 24 cupcake rings can be used with any cupcake. Just stick it in on top and you are set.
There are rings with Jase, Willie, Phil and of course Uncle Si and then there are some that just say "Duck Dynasty" with ducks.
Adults and kids are gone love these fun cupcake rings and besides for cupcakes they are great for decorating napkins and even as party favor or to mark a wine glass.
But first lets get those cupcake ready by decorating them with these Duck Dynasty Cupcake Rings.