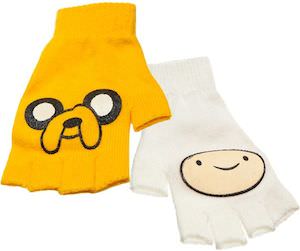 If you want some fun fingerless gloves and you like Adventure Time then this is the pair to get.
These gloves are fun because they are not just one color. Each glove is different in this pair.
One is yellow and has the face of Jake the dog on it and the other one is white and has the face of Finn the human on it.
So together you have a fun pair of gloves without the fingers that are white and yellow.
If you are an Adventure Time fan in need of some fun gloves then you have to see these Adventure Time Finn And Jake Gloves.