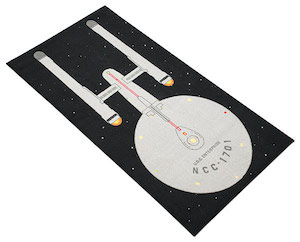 Now you can have Star Trek at your feet.
This rug shows you the USS Enterprise so there you have Star Trek on your feet.
The rug is black with stars and then a huge picture of the Starship Enterprise.
This Star Trek rug is 71.5 x 39.4 inch and will be a great addition to your home.
If you are a Star Trek fan then you will be wondering why you never had a carpet like this before.
Come and have a closer look at this Star Trek USS Enterprise Rug.