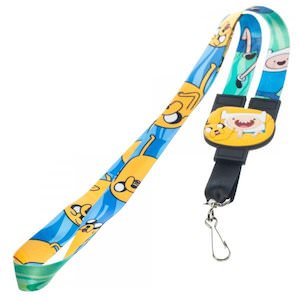 Lanyard are great for holding keys, ID cards and even flash drives.
And now there is this fun Adventure Time lanyard and that of course is so much better then one of those cheap lanyards with advertisement on it.
This lanyard is covered with pictures of Jake and Finn and there is even a big round on the end of the lanyard with a picture of both (and there is even an image on the back of it).
This Adventure Time lanyard comes with a clear plastic badge holder so that you can just stick in any id card.
Kids and adults will enjoy a fun lanyard and that is why you want to see this Adventure Time Lanyard With Finn and Jake.