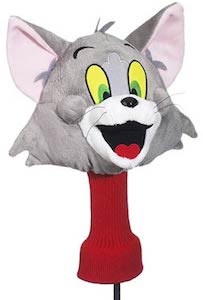 This golf club head cover is so cute it looks like Tom the cat from Tom and Jerry and he seems a lot happier on the golf course instead of chasing the little mouse Jerry.
Tom is a golf club cover that fits over golf club head up to 460cc Driver and it even has a knit sock connected to it so that even the top part of the club shaft keeps in top condition.
And besides protecting the head of your golf club it also looks fun and make it much easier to find the right club quickly.
Bring a smile to your golf bag with this Tom And Jerry Golf Club Head Cover Of Tom The Cat.