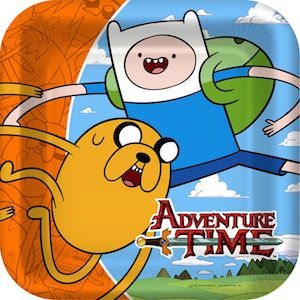 Are you ready for your fun Adventure Time Party?
Let Finn and Jake be a part of your party with these cool Adventure Time paper plates.
These Adventure time party plates feature a picture of Finn and his best friend Jake the dog outside looking like they are ready to join you for an adventurous party. There is also the logo "Adventure Time" written in red with a sword going through the word time.
They are a square paper plate and comes in a pack of 8. Ready to hold all you favorite party treats.
Make your party more fun and adventurous with these Adventure Time Paper Plates.