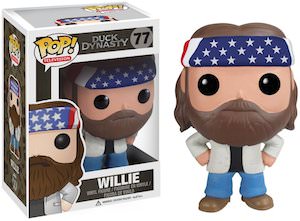 There is Willie the CEO of the Duck Commander company that makes these famous duck calls used to hunting ducks.
OK this is not the real willie because this one is just 3 3/4 inch tall and made from vinyl.
But this Willie Robertson figurine looks a lot like him. He wears the white suit jacket that we see Willie wear on the Duck Dynasty tv show and even the US flag bandana is on his head. Oh and yes of course he has a beard to.
This Duck Dynasty figuring of Willie is part of the Pop! Vinyl series from Funko and that makes it perfect for collecting.
Get your own figurine today! Come and order your Duck Dynasty Willie Pop Vinyl Figurine.