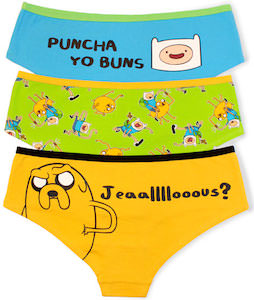 Of course you would like fun underwear and now you can have this pack of 3 pairs of Adventure Time panties.
These women's panties are made from 95% cotton and 5% spandex and comes in sizes Small -XLarge.
And the panties have 3 designs in the pack. One is yellow and shows Jake and besides it the text "Jeaalllooous?". Then there is a blue pair with Finn's head on it and the text "Puncha Yo Buns" and then there is a green pair with Jake and Finn on it just having fun.
So now when you wear your boring plain work clothes then you can have fun Adventure Time panties.
Lets get ride of those boring panties and replace them with this Adventure Time Women's Panties 3 Pack.