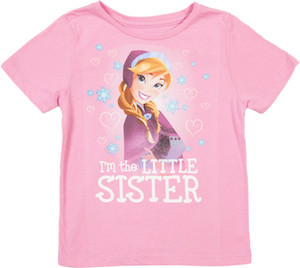 Are you the little sister of the family? Well, with this adorable kids Frozen Anna t-shirt everyone will know that you are the little sister.
Anna was Queen Elsa's little sister on the wonderful Disney movie "Frozen" who loved to play together with their fun friend Olaf the snowman.
This beautiful pink short sleeve kids Anna t-shirt features the pretty Anna with her lovely braided long blond hair from the waist up wearing her  purple cloak around her shoulders and a purple bonnet on her head. There are little hearts and snowflakes surrounding her with the words " I'm the little sister" written below her  in white.
It is a tagless t-shirts for the parents that always cut the tags of there kids clothes and is available in a variety of sizes from 2 to 7.
Go on some fun adventures with your big brother or sister while wearing this cute Frozen Anna Little Sister T-Shirt.