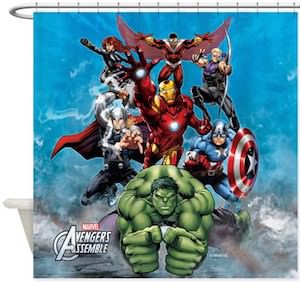 A true fan of the Avengers of course would love to own a shower curtain with them on it.
And now you can have and Avengers Assemble Shower Curtain with the whole team.
Yes The Hulk, Iron Man, Captain America, Thor, Black Widow, Hawkeye and Falcon are all there just like in the animated TV series.
And this shower curtain just makes all this superhero's pop out like the are falling from the sky. The blue background and the all those colorful superhero's makes this 69 x 70 inch shower curtain perfect for a boring bathroom.
Any fan of Marvel comics can admire this shower curtain in your bathroom if you just simply get your own Marvel Avengers Assemble Shower Curtain.