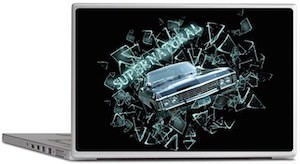 Are you a Supernatural fan with a laptop that can use some decorations?
How about a nice big decal for the top of your laptop?
And this laptop decal we found maybe perfect for you. It has a black background and in the middle you can see the 1967 Chevrolet Impala from from Dean Winchester and it seem to be smashing right through the laptop with glass everywhere around it and also the word "Supernatural above it.
All that makes for a perfect way to making your laptop look way more personal and better. And you can get this laptop decal in many sizes from 7″ all the way to 17" so that it fits your laptop the way it should.
So lets make your laptop look amazing with this Supernatural Laptop Decal.