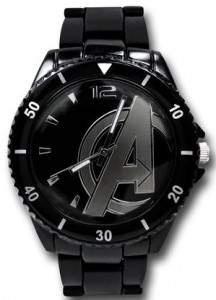 When you think of Marvel comics, comic books, movies and The Avengers a lot comes to mind like vibrant colors and action packed stories. Well let's tone it down and I bet with the simple "A" logo for Marvels Avengers you can still have a very cool product.
This watch features exactly that, an all black watch that has a silver "A" which is the official Marvel Avengers logo on the face of the watch and silver hands and time markings giving you a simple yet amazing piece of Avengers memorabilia.
The face of the watch is 2 inches in diameter and has a stainless steel back, the entire watch is metal and will be durable to last a super long time.
Get a closer look at the Marvel Avengers Logo Black Metal Watch.