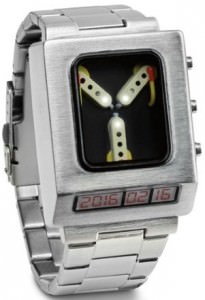 If you don't have a DeLorean to travel in time do not worry, here is a smaller solution.
A watch that is based after the flux capacitor seen in the movie Back To The Future, find the face of the watch with lights and and gadgets that will tell you the time by blinking lights, also the date is displayed with an LCD screen.
This amazing flux capacitor watch is made from durable and very sharp looking stainless steel that is brushed and polished smooth which happens to also to match the classic Back To The Future car the DeLorean.
It has an adjustable strap that fits up to a 9.4 inch wrist that can easily change sizes, also included is the battery which is a CR2032 and a sweet looking display case box.
Tell the time with the Back To The Future Flux Capacitor Watch.