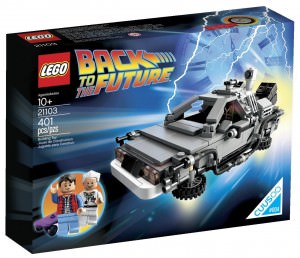 The amazing time machine car the DeLorean from the hit series of movies Back To The Future is now available for you to take home today….. well in awesome LEGO version that is.
This LEGO DeLorean has every little detail you see in the movies with wires, hoses, flux capacitor, bumpers and a licenses plate that says "California OUTATIME". The gull-wing doors open and your LEGO minifigures can fit inside, the wheels fold in to go into hover mode.
Also included is two minifigures, find Dr. Emmett 'Doc' Brown in his white lab coat and Marty McFly with his orange vest and also a purple fuctionable skateboard. The DeLorean measures approximately 2 inches hgh x 5 inches long x 3 inches wide.
You will also get the building instructions along with an exclusive Back to the Future information booklet.
Start building today with the Back To The Future LEGO DeLoren Model.