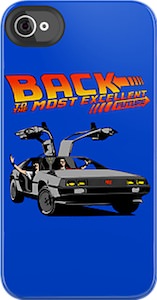 OK maybe this is not an official Back To The Future product but it looks pretty amazing.
Of course there is the DeLorean in witch Marty McFly travels through time. And there is something that looks like the Back To The Future Logo but it actually says "Back to the most excellent future".
This case is availible for a big range of Apple products. You can get it for the iPhone 4 all the way to the iPhone 6 plus.
Having no case on your iPhone or iPod Touch is not a smart thing so start browsing for the case that fit with you.
But now have a better look at this Back To The Future iPhone / iPod Touch Case.