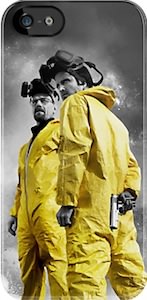 Does you iPhone or iPod touch need protection?
This Breaking Bad case can do that for you device.
You can get this amazing case for the following devices:
iPhone 5
iPhone 4S
iPhone 4
iPhone 3GS
iPhone 3G
iPod Touch 4e generation
And each case has an amazing picture on it of Walter White and Jesse Pinkman in their yellow hazmat suits that they use to cook and Jesse even holds a gun.
This Breaking Bad scene is great for any case and now you can have it on your phone case.
Of course this Breaking Bad case keeps you having access to all the ports and buttons.
So Breaking Bad fans come check out this Breaking Bad Boys iPhone Case.