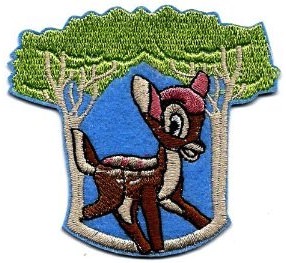 Kids play and play and then there is hole in the pants, sweather or jacket and now mommy need to find away to fix it.
Clothing patches are an ideal sollution as they not only fix the fabric they also make it look fun.
This clothing patch has Bambi on it the little deer from the famous Disney movie.
You can attach this patch by simply ironing it to fabric or you can sew it on to make it extra strong.
Of course you con't have to use the patch to fix things you can use it make things look more fun to.
Now you can have a Bambi hat, backpack, jacket and so on the options are limit less.
Come and have a closer look at this Disney Bambi Patch.