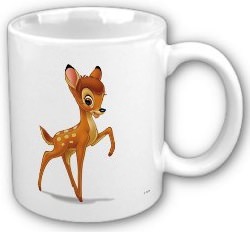 Why still use boring mugs or worse paper cups?
Just replace them all with fun mugs like this Bambi one.
This white mug has a picture of Bambi on it and not just one there are two of the same pictures on each side of the mug.
Now you have cute deer on your mug and that will make it you favorite drinking cup of all time.
And of course this mug is microwave and dishwasher safe and comes in a couple of sizes.
Don't worry if you are a adult or a kid everyone loves Bambi.
Get ready for a nice hot drink in your new Bambi Mug.