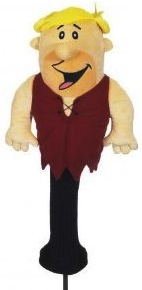 We all know that Fred and Barney played an early version of golf in The Flintstones but Barney Rubble still likes to come and watch  other people play.
And as you can use some protection of you golf clubs and it would be nice to quickly find them they found a sollution that works for both of you.
This is the Barney Rubble golf club head cover that will protect your golf club and it gives Barney a top location to view you play.
And this Flintstones golf club head cover can hold clubs up to 460cc so most of you clubs will fit without any problem.
Come have a closer look at this The Flintstones Barney Rubble Golf Club Head Cover.