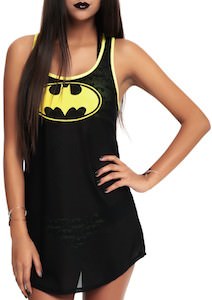 This women's tank top is made to cover up your swimsuit and still showing it off a little bit.
This is a black Batman tank top with a big yellow Bat symbol on the front and with a yellow edge details. Even on the back you can find the Batman logo back in between the shoulder blades that are besides that mainly bare.
This top is great for covering up bathing gear while showing it off a bit by being a bit see through. But besides being great for covering up your swimsuit it is also just a fun top that you can use to cover up anything.
So if you are looking for a Batman cover up tank top then you have to check out this Batman Women's Swim Cover Tank Top.