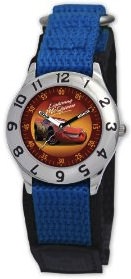 Here is a beautiful watch for kids. There favorite character from the Movie Cars Lightning McQueen is on it. The black and blue band has an easy to use hook and loop strap. And important to kids the watch is water resistant till 99 feet (30 meters) and that helps if they forget to take it off when they take a shower.
Go have a look at the Lightning McQueen Watch
and see if they could be your kids first watch.
You may also like: