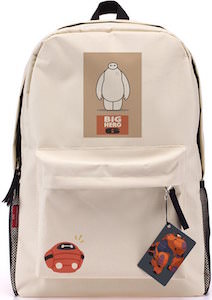 If you liked Big Hero 6 but and would love to have a fun Baymax backpack but not one that is to much for kids then this could be the perfect backpack for you.
The backpack is 17 x 11 x 5 inch and that makes it perfect for so many things. School, work, travel or just fun this Big Hero 6 backpack could be the one.
The backpack is light colored and has a picture of Baymax and the Big Hero 6 goto on the top part and below on a smaller pocket you can see Baymax in charging mode because you don't want him to run out of power.
Inside and out this Baymax backpack offer plenty of room and pockets for all your belongings.
Come take a closer look at this Big Hero 6 Baymax Backpack.