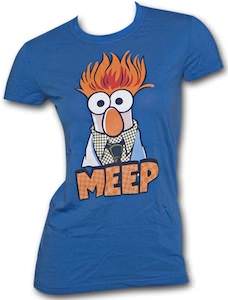 Beaker is famous for his use of words and "MEEP" is probably the one we are talking about.
This Muppets t-shirt is blue and shows a picture of Beaker and the word MEEP below the picture.
You have to admit that this is a super fun t-shirt.
It is made out of 100% cotton and comes in the sizes Small, Medium and Large.
Now is the time to get ready for Beaker by getting this Beaker Meep T-Shirt.
You may also like: