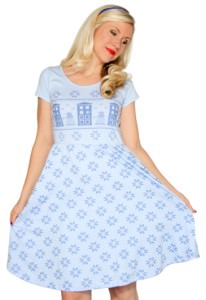 Forget about wearing an ugly Christmas sweater to your next holiday party, how about a super cute knitted Christmas dress that shows off your love for Doctor Who and the Tardis.
This is a dress that features a very nice design of the Doctor Who Tardis, find the blue Tardis across the chest multiple times along with a few faint Dalek's and then the entire dress is covered in light blue snowflakes that are in perfect uniform order.
A very cute knitted dress that is perfect for any Christmas occasion, it is available in a wide selection of sizes so all can enjoy a Doctor Who Tardis Christmas and the knitted dress has a lot of stretch so it will be super comfortable.
You may also like: