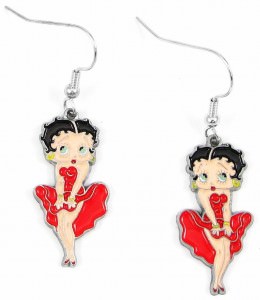 Betty Boop paving the way for many other sexy cartoon characters to follow in her sleek, sexy and awsome lead.
This is a pair of earrings that have the famous cartoon icon Betty Boop looking as sharp as ever, Betty Boop will be dangling from your ears in a sultry pose and of course she is wearing that famous red dress.
These officially Licensed Betty Boop dangle earrings will be perfect to add to your Boop collection and your jewelry box, they will be the go to pair of earings for you I am sure.
Show off your love and support with these Betty Boop Dangle Earrings.