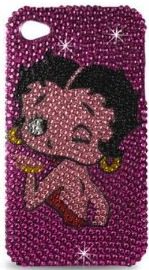 Girls like lots of bling and that is what this Betty Boop has lots of.
This iPhone case is coverd in rhinestone chrystals and on the back you see a picture of Betty Boop made out of rhinestones.
And this case is pink so really girly. And Betty is even blowing you a kiss.
Of course this Betty Boop case will keep all your ports accessable and will protect you iPhone 4 and iPhone 4S from harm while sparkling away.
Get ready to sparkle with this Betty Boop Pink Rhinestone iPhone Case.