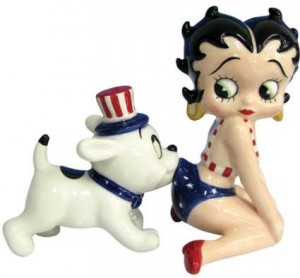 The iconic animation of Betty Boop is loved by many, also do not forget her little fury friend Pudgy her dog.
This is a really cool set of salt and pepper shakers that will be a must add to your Boop collection.
Find a very well detailed Betty Boop in the famous blue, red and white bikini with the other shaker being Pudgy biting the back of her bikini bottoms, also find Pudgy in a blue collar and a very fun red, white and blue top hat.
These salt and pepper shakers are made from high quality ceramic and have a magnetic insert to keep them together.
Collect these Betty Boop And Pudgy Salt And Pepper Shakers.