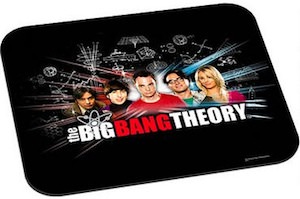 If you still use a mouse on your computer then for sure you need a fun mousepad.
This Big Bang Theory mousepad is fun and perfect for your desk at home or work.
The mousepad is black and shows a bunch of scientific things through the sky and in front of that we see the original cast of the Big Bang Theory. Penny, Rajesh, Leonard, Howard and Sheldon are all there and they are all staring at you.
And this mousepad also has the Big Bang Theory logo on it to make it complete.
The Big Bang Theory mousepad is 7 3/4 x 9 inch and has a soft foam back that makes it perfect to keep the pad in place while you are working with you computer mouse.
So if you desk needs a new mousepad then come get your The Big Bang Theory Mousepad.