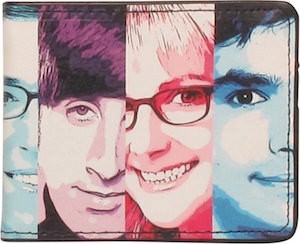 Now there is a wallet that shows the pictures of the main cast of The Big Bang Theory on it and that looks pretty neat.
The wallet has one fold and is 3.25 x 425 inch when folded and then you can see Amy, Howard, Bernadette and Rajesh on one side and Leonard, Penny, Sheldon and a part of Amy on the other side.
And on the inside it is just black with room for money, cards and ID.
This wallet is an officially licensed The Big Bang Theory product and just looks great as it doesn't scream what it is so that people that don't know the show still think the wallet is cool.
Come take an al around look at this The Big Bang Theory Cast Wallet.