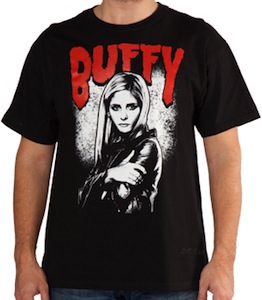 Buffy is almost like the classic vampire TV series and that makes it perfect to wear a t-shirt like this.
This black 100% cotton t-shirt shows a portrait of Buffy The Vampire Slayer in black and white and in red above that the word "BUFFY".
If you want to tell the world that you already watched vampire stories a long long time ago then this could be the shirt to wear.
The Buffy The Vampire Slayer t-shirt comes in a wide range of adult sizes.
So get ready to watch some vampire stories while wearing this Buffy The Vampire Slayer Portrait T-Shirt.