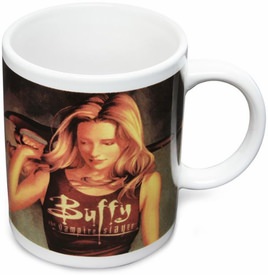 Are you afraid of vampires?
If so then maybe you should get this Buffy The Vampire Slayer Mug because this will scare the vampires away.
As soon as the vamipires see this mug they will think that you and Buffy are friends and they know what happens if Buffy gets mad.
This coffee mug shows a great picture of Buffy wearing a Buffy the vampire slayer t-shirt.
If you like Buffy then come check out this Buffy The Vampire Slayer Coffee Mug.