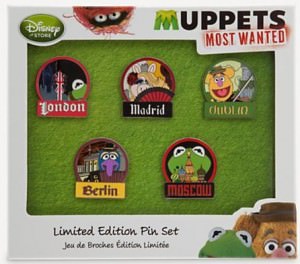 A true Muppets fan has everything Muppet, and this is just one of many cool series The Muppets have starred in.
This is a really cool pin set that is from the really awesome Disney movie The Muppets Most Wanted, find five different pins in this collection:
London: Kermit the frog
Madrid: Miss Piggy
Dublin: Fozzie Bear
Berlin: Gonzo the Great
Moscow: Constantine
A very great addition to your Muppets collection this 5 pin set also comes in a window diplay box so you can keep them in mint condition and show them off, each pin is approximately 1 3/4 inches tall.
Collect or wear this Muppets Most Wanted 5 Pin Set.
You may also like: