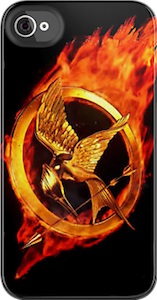 Now you can protect your iPhone with an amazing Mockinjay case.
This case shows a burning Mockinjay ping just like the one from The Hunger Games movie.
A case like this will not only protect your device but even makes it look better.
You can get this Hunger Games case for the:
I know the true Hunger Games fan would love to have a case like this and show your support to Katniss and Peeta.
Come see all the options available with this The Hunger Games Burning Mockingjay iPhone And iPod Touch Case.