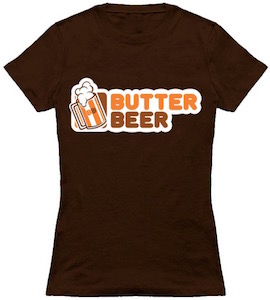 The favorite drink of a true Harry Potter fan of course is Butterbeer and now you can show the world how much your really like that.
Now there is this t-shirt witch comes in women's and men's versions in all kind of colors but all have one thing in common the logo on the shirt.
The logo on this Harry Potter t-shirt is of Butterbeer complete wither big mug of the yummy drink.
You can get this Butterbeer t-shirt in many sizes going from Small all the way to 6XL so that any true Harry Potter can can wear one.
Come and get your own Harry Potter Butterbeer T-Shirt.