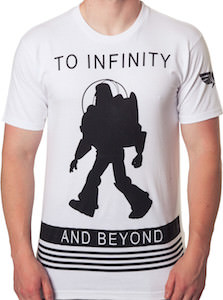 Adults like Toy Story to and specially Buzz Lightyear.
Now there is a white Toy Story t-shirt just perfect for those people.
On the white you can see the silhouette of Buzz Lightyear an around him you find the text "To Infinity And Beyond" just like Buzz would say and there are also some black stripes and a insignia on the sleeve.
And because men like us don't like itchy things they made this shirt tag less and from 100% preshrunk cotton. And you select out of sizes Small – 4XL when picking the perfect Toy Story t-shirt.
Come and show the world that you like Buzz by wearing this Toy Story Buzz Lightyear Infinity And Beyond T-Shirt.