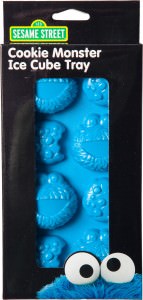 Take a bite out of your next get together with a fantastic ice cube tray. It's none other than Sesame Street's Cookie Monster and his favorite chocolate chip cookies.
This Cookie Monster ice cube tray is as blue as Cookie's fur. It makes 8 ice cubes in one go round. There are three designs. One of Cookie Monster smiling, one of a cookie with a large bite taken out of of it and thirdly a full cookie. Classic Cookie Monster!
The ice cube tray measures approximately 10 x 5 x 1 inches and is made of hard plastic.
Get your next party started with the Cookie Monster Cookies and Face Ice Cube Tray.