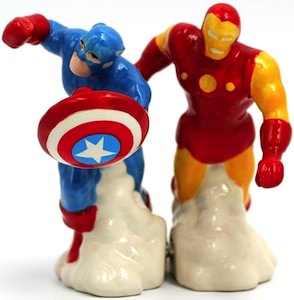 Are you looking for a superhero that can spice up your food?
We found two. This salt and pepper shaker set includes Iron Man and Captain America and together they are salt & pepper.
These Marvel superhero's stick together with a little magnet but can be used at any time to spice up your food.
No more boring salt and pepper shakers, now you can have Avengers on your dinning table.
Come and check out this Marvel Captain America And Iron Man Salt And Pepper Shaker Set.