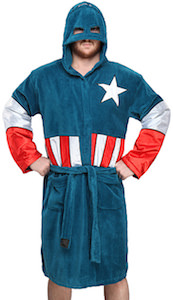 With this bathrobe you can start feeling like a true superhero.
This Captain America robe is the colors of the captains uniform. On the back of this terry robe you can find the shield of Captain America and the sleeves are red and white and blue and red and white stripes can be found on the front together with a star. And then there is an extra awesome feature.
The hood of this bathrobe is also like the mask / helmet of Captain America and for you that means that there are holes for you eyes making it like a real mask.
If you want a robe that also doubles as a superhero costume then you have to take a look at this Captain America Bathrobe.