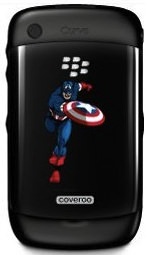 Give your Blackberry Curve 8520 or 8530 a new look  with this replacement battery cover with a picture of Captain America on it.
Now your Blackberry will have super powers.
This is not a skin or sticker no this is a replacement battery cover that fits perfectly on your Curve 8520 or 8530.
Go have a closer look at the Captain America BlackBerry Curve 8520 8530 Phone Cover.
You may also like: