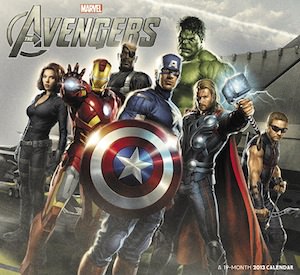 The Avengers movie is a big success and now you be reminded of this amazing movie at home.
With this 2013 wall calendar you can enjoy Marvel superhero's and movie scenes for a long time.
The Avengers calendar is good for 19 months so the sooner you get it the sooner you can enjoy it as it already starts in 2012.
Come see all the Avengers heroes like Nick Fury, Captain America, The Hulk, Iron Man, Black Widow, Thor and Hawkeye because they are all in this Avengers calendar for 2013.
COME CHECK OUT A MORE RECENT AVENGERS CALENDAR!
You may also like: