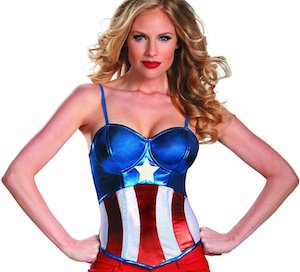 Do you want to be the sexy Captain America at your next costume party?
This bustier top will make any women into a sexy Captain Rogers. The lower part of the top is red and white stripes that go up to the bust witch is blue and a white star in the middle. And that nice top is hold up with some spaghetti straps.
Just imagine becoming the focal point of the party when you wear this amazing looking Captain America top. And if you are not looking for a Halloween costume then why not wear this top on you walk around town. It looks stunning and it would be a shame if you can just wear it a couple nights a year.
Become the next Marvel superhero by wearing this Captain America Bustier Top.