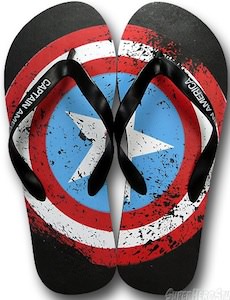 Superhero's want to keep being superhero's so if they can they will keep their feet protected.
Now you can keep your feet of the ground with these Captain America flip flops. These shoes have the Captain America shield logo printed over the two flip flops and that have the word "Captain America" on the binding.
You can get these Captain America flip flops in men's sizes.
And these flip flops make the perfect gift for you Superhero.
Come and shop for some Captain America Flip Flops.